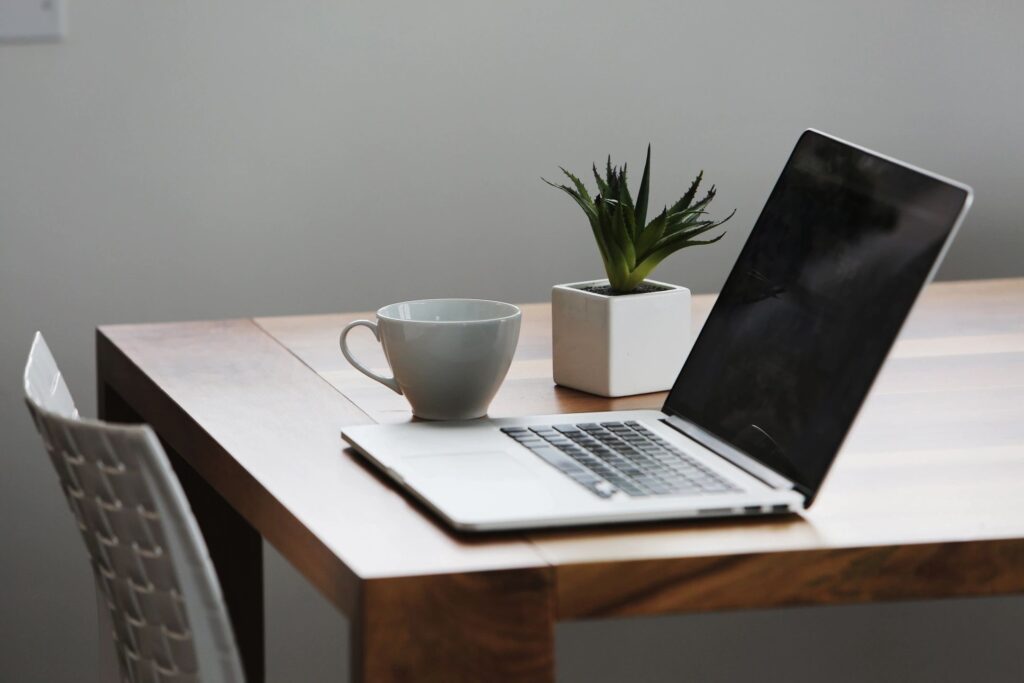 For most of us we spend a large proportion of our lives at work. If your occupational wellbeing is out of balance it can have a major impact on all aspects of your life. We can speak from personal experience on this. It has taken us a long time to improve the balance in our occupational wellbeing and whilst it is better, it is still not where we want it to be. But we recognise it, and we are taking active steps to improve it – that in itself helps our ability to maintain our wellbeing in this dimension.
Below are some of the ways that living La Vida Lagom could help you address the balance in your occupational wellbeing:
1. Spend a proportionate amount of time on a task
According to Linnea Dunne's book 'Lagom, the Swedish Art of Balanced Living', "if you do it right, you'll spend a Lagom amount of time on it" – we interpret this as 'spend the right amount of time on it'. A lagom attitude to work is to work smarter not harder. A lagom amount of time to spend on a task is until the task is done. Those living lagom don't waste time on perfection if good enough is good enough, but also don't deliver a task that is not up to standard.
2. Aim to work to live not live to work
Work should give you freedoms to experience life, not prevent you from experiencing life. Whilst being dedicated and hardworking are admirable qualities, no-one on their death bed ever looked back at their life and wished they had worked harder. In fact, an article written by Bonnie Ware, a palliative care nurse, in 2009 notes that 'I wish I didn't work so hard' is one of the top five regrets of the dying. Those living lagom acknowledge that work is a serious business, but also recognise the importance of taking time out.
Research by the TUC in 2015 suggested that the number of people in the UK working excessive hours had risen by 15 per cent since 2010 and the 2011 Workplace Employment Relations Study (WERS) found that most employees who were working more than 48 hours per week said that their job made them feel tense 'all', 'most' or 'some' of the time.
In 2020 with many of us working from home, the line between work and home life can often become blurred. It is probable that this new way of working will remain the 'norm' for many in the foreseeable future and may continue indefinitely for some. Therefore, we need to ensure we have boundaries in place to maintain our occupational wellbeing in this situation. It is too easy to 'just respond to that email' in the evening or 'just do 5 more mins' which leads to 30 mins. Here are our suggestions for managing your working hours (specifically for those working from home):
Work your hours as often as possible – It is OK on occasion to put in the extra hours in to meet a deadline, but when the extra hours start to become the 'norm' there is a problem. Excessive hours often lead to burnout which is no good for you or your employer.
Set a start time – Try incorporating a morning routine or morning exercise into your day to prevent you from starting too early
Aim to leave work on time – Make time for hobbies, family time or catching up with friends – put it in your work calendar as a meeting or arrange to meet someone to ensure you leave on time
Dedicate an area of the house for work – If you can, try to work in one place in the house and retain the rest of your home for living
Leave work at work – If you are working at home, close down your laptop each day and put it away, out of sight. Turn off work related notifications from your mobile devices so that you don't get interrupted in your down time
3. Take a break
In traditional working environments, Swedish employees make time for a 15 min break in the morning, a 15 minute break in the afternoon and take a lunch break in the middle for good measure. Research shows that taking a break is essential to higher productivity, energy, concentration, efficiency, creativity, and just about every other good thing that you need to survive.
Depending on the way you work and the work you are doing, it is suggested that you should aim to take a break every 50-90 minutes.
Research suggests that our ultradian (biological) rhythms have 90-minute cycles so taking a break of 15 – 20 minutes every 90 minutes is optimum. Nathaniel Kleitman's work on the human ultradian rhythm suggest that the most effective working pattern is 52 mins work with a 17 min break.
A different approach to consider is the Pomodoro technique which suggests that the most effective way of working is to spend 25 mins of focus time on a specific task with a 5 minute break. After four rounds of 30 minute cycles you should take a longer break of 15 – 30 minutes.
We recommend giving these a go and seeing which works best for you and the work you do – is not a prescriptive approach and you may not get it right first time – but enjoy the process. Whichever option you chose, it is key to recognise that taking a break should not just be stopping work. When you take a break you should try to do something different, so walk away from your desk/work environment, stop looking at a screen (computer or mobile) and take a true break. Here are some suggested activities for your break:
Have a cuppa with some colleagues (or with your family, housemate or on your own for those of us in working from home in 2020)
Enjoy some Fika with a friend or colleague
Have a short walk and get some fresh air
Call a colleague, friend or family member and have a chat (about something other than work)
Meditate
Read a book
Listen to some music
Do something creative like knitting, needle thread or colouring
Journal
Look out of the window at some nature and daydream
Taking time for yourself in the working day will not only make you more productive, but also increases your happiness, which in turn will make you more resilient to deal with any challenges the working day provides.
4. Take your holiday
A lagom approach to work suggests that you take a proper holiday from it. In the UK employees should take a minimum of 5.6 weeks / 28 days per year (pro-rata for part time workers) but a survey of 2,000 people commissioned by British Airways in 2018 found that one-third of working Brits did not use up their annual leave in 2017, losing an average of four days each, and 69% of Brits did not take a two-week holiday.
Now whilst the validity of this survey could be challenged for a number of reasons, the result is not unexpected to us and we suspect this may be worse in 2020 as the COVID-19 pandemic has meant many people have been unable to travel and have cancelled or postponed holidays. Research by finder.com in September 2020 suggests that most employees will carry some leave over to 2021 and those employees who plan to shift some of their annual leave to next year will roll over an average of 5.11 days, with 37% of workers intending to take in excess of five days over.
So even if you can't go away this year (or next) it is important to take time away from work. Try a staycation – sometimes just being away from your home, even if not far away, can feel like enough of a break. Explore your local area and find some new activities to do at home. Just not being at work or thinking about work for a week or two will help you regain your occupational balance.
Taking your annual leave is important because it helps you get enough rest and helps to maintain your health and wellbeing, both physically and mentally. Taking a holiday is lagom because it provides you with an opportunity to rest and re-charge your batteries at the time, but the action of rest allows you to re-charge your resilience which provides you with benefits in the long term.
5. Share the load
A lagom approach to work suggests that a collaborative approach to getting things done is the best way to maintain occupational wellbeing. This approach means seeking ideas from others – 2 heads are better than one and many heads is even better. Instead of you being responsible for crucial decisions alone, aim to seek collective agreement from your team for important decisions – this approach enables the whole team to take ownership for decisions and is likely to mean better by-in and support to make it happen.
If you are feeling overwhelmed by your workload, consider ways that you can share the load across the team and work more collaboratively with colleagues. It is not a failing on your part if workload is too much and you should not feel guilty for seeking support from colleagues to manage tasks. If you are not able to seek support from colleagues directly, speak to your manager or human resources. The more you work longer hours to 'cope' with the load the more harm you are doing to your wellbeing. You are also 'hiding' the real issue from your management team and what they don't know they can't support you in fixing.
Want to know more about living lagom? Take a look at our wellbeing pages and blog or feel free to reach out via our contact page.